About Seven Seas Entertainment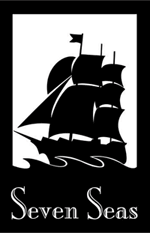 Seven Seas Entertainment is an award-winning publisher that specializes in bringing the best of Japanese manga and light novels to North American audiences, as well as producing original comics, graphic novels, and youth literature. Formed in 2004 by Jason DeAngelis, Seven Seas is now the #1 independently-owned manga publisher in North America.
Seven Seas is distributed by Macmillan, and is their second largest distribution client in North America. Releasing about 300 book per year, Seven Seas holds hundreds of licenses from Japanese publishers and rights holders, many of which rank as best sellers in the category.
Seven Seas' lineup includes a vast array of genres and sub-genres. From best-selling titles like Monster Musume and The Ancient Magus' Bride, to the Harvey Award-winning manga My Lesbian Experience with Loneliness and the Eisner-nominated sci-fi romance orange, to hardcover editions of revered classics like Devilman, Captain Harlock, Cutie Honey, and Space Battleship Yamato, the breadth of Seven Seas' catalogue appeals to a broad swath of fans.
One of Seven Seas' areas of expertise is creating original-English language manga. Since 2004, the company has published nearly 50 volumes of original manga, spanning over 7,000 pages of sequential artwork. In addition to creating original works, Seven Seas licenses existing IP and adapts them into manga, such as Speed Racer, Ringworld, and My Little Pony.
Seven Seas' wholly-owned subsidiary company, S7 Games, creates and publishes tabletop board and card games based on hit properties such as My Hero Academia, Tokyo Ghoul, and Sonic the Hedgehog. (Visit S7Games for more information.)
---
Interested in working for Seven Seas? Please see our Jobs page.
Want to be added to our Press List, as a journalist and/or reviewer? Please contact us at press@gomanga.com and include the website(s) you write for.
Interested in foreign licensing for one of our original properties? Please contact us at press@gomanga.com