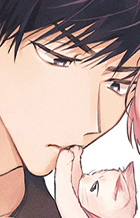 Seven Seas Entertainment is pleased to announce the license acquisition of the manga Love, a Kitten, and a Salty Dog by Nenko Nen. In this sweet, self-contained, and Mature-rated Boys' Love tale, a veterinarian and a college guy fall for each other thanks to an adorable stray cat!
Okura is a tough veterinarian who works at Kinako Animal Hospital, right near the entertainment district. One day, a kind and earnest college student named Momo brings in a tiny kitten he found on the streets, and the two men grow closer as Okura helps Momo learn about cat parenthood. It isn't long until their conversations turn from petcare to their experiences with romance as Okura finds himself wanting to get to know Momo better. Will their relationship grow into something more with a kiss?
Love, a Kitten, and a Salty Dog will be released for the first time in North America in January 2024 for $14.99 USA / $18.99 CAN, with the book available in a single large-trim edition. An ebook edition will also be available on digital platforms.