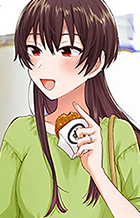 Seven Seas Entertainment is delighted to announce the license acquisition of the manga series I Married My Female Friend by Shio Usui. In this sweet, slice-of-life yuri tale from the creator of Doughnuts Under a Crescent Moon, two women go from friends to more…with the help of a marriage pact!
Kurumi and Ruriko made a deal: if they were both single in five years, they would marry each other. Five years later, neither woman is attached, so it's time for a wedding! Marriage is full of firsts, especially for two friends, so they have a lot to learn about each other in their newly shared home. But will they continue this arrangement like two especially close roommates…or will a different kind of love bloom between them?
I Married My Female Friend Vol. 1 will be released for the first time in North America in December 2023 for $14.99 USA / $18.99 CAN, with the series available in print and on digital platforms in single large-trim editions as part of the Seven Seas GL label (Girls' Love titles).