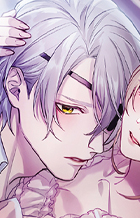 Seven Seas Entertainment is excited to announce, through its Steamship imprint dedicated to sexy romance for women, the license acquisition of the light novel Loyal Soldier, Lustful Beast by Sumire Saiga and Saya Shirosaki. In the first Steamship light novel ever, a delicious–yet forbidden–historical romance unfolds between a lovestruck soldier and the king's concubine.
One day out of the blue, noblewoman Giselle is summoned to serve as the king's prized concubine. Alas, her heart belongs to another man: Wallace, a former slave and the soldier who saved her brother's life. Wallace worships the ground Giselle walks on and attends to her every need as her manservant. Much as Giselle mourns the line drawn between them, her days with Wallace are filled with bliss. Yet the king's word is absolute, so Giselle decides to give up on her paramour. Then, late one night, Wallace steals into her room in the palace. His gaze is desperate and hungry as he watches her. She knows it's a crime to spend the night with him…but can she help herself?
Loyal Soldier, Lustful Beast (Light Novel) will be released for the first time in North America in December 2023 for $14.99 USA / $18.99 CAN, with the book available in print and on digital platforms in a single large-trim edition as part of Seven Seas' Steamship imprint.