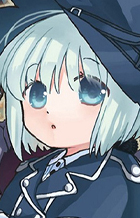 Seven Seas Entertainment is happy to announce the license acquisition of the manga series The Skull Dragon's Precious Daughter by Ichi Yukishiro, a wholesome fantasy tale–first published digitally in English by J-Novel Club–about family bonds that transcend species!
In a faraway land lies a forest where all manner of beings dispose of their trash. One day, a young girl named Eve is abandoned along with the usual debris, but she is soon found by an aging dragon who decides to take her in and raise her. Under the dragon's watchful eye, Eve grows up happy and healthy, but her peaceful life is interrupted by impending tragedy. Yet in the face of this heartbreaking farewell, Eve makes a surprising next move. A perfect "found family" story for fantasy lovers!
The Skull Dragon's Precious Daughter Vol. 1 will be released for the first time in print in North America in March 2023 for $13.99 USA / $17.99 CAN, with the series available in single volume paperback editions.