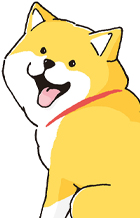 Seven Seas Entertainment is paw-sitively thrilled to announce the license acquisition of the self-contained manga Shibanban: Super Cute Doggies by Yasuteru Ogoshi, a full-color book for the popular Shiba Inu characters appearing in LINE stickers and stationery! Follow the capers of a group of canines in this collection of hilarious comics.
Meet Aka, Kuro, Cha, Shiro, the Roly-Poly Pups, and the rest of this colorful cast of adorable Shiba Inu dogs! Whether they're venturing out into stormy weather in a raincoat, lazing at the beach, napping in a cozy dog bed, or eagerly eyeing dinner someone left out on the table, their fun (and sometimes mischievous) antics are sure to delight.
Shibanban: Super Cute Doggies will be released for the first time in North America in May 2023 for $14.99 USA / $18.99 CAN, with the book available in print and on digital platforms in a single large-trim edition.