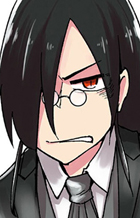 Seven Seas Entertainment is happy to announce the license acquisition of the manga series Miss Kobayashi's Dragon Maid: Fafnir the Recluse by coolkyousinnjya and Nobuyoshizamurai. The otaku dragon from the original hit manga series (which inspired the anime and multiple spin-offs) stars in a manga of his own!
Fafnir is a dark, brooding curse dragon from the same world as Tohru, Kanna, and their friends. He's also an otaku who's as obsessed with games, merch, and doujinshi as he is with gold, jewels, and destroying all humans. This latest spin-off from the popular Miss Kobayashi's Dragon Maid series follows Fafnir's daily life in a shared apartment with Kobayashi's otaku coworker Takiya, where Fafnir tries to get along with humans and dragons—or just avoid them!
Miss Kobayashi's Dragon Maid: Fafnir the Recluse Volume 1 will be released for the first time in North America in January 2023 for $13.99 USA / $17.99 CAN, available in print and on digital platforms in single volume editions.