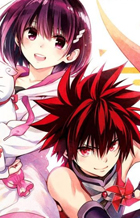 Seven Seas Entertainment is thrilled to announce, through its Ghost Ship imprint for older readers, the license acquisition of the manga series Ayakashi Triangle by Kentaro Yabuki–a hilarious and sexy tale of ninja exorcists, supernatural battles, and gender-bending romance by the artist of To Love Ru and DARLING in the FRANXX!
Teenager Kazamaki Matsuri has long been part of an elite force of ninja exorcists, tasked with fighting malicious ayakashi spirits who threaten Japan–especially those after his childhood friend, the spirit medium Kanade Suzu. As he fiercely protects her, and his relationship with her blooms from friendship into something more, a powerful cat ayakashi vows to get between the lovebirds: by casting a forbidden spell that turns Matsuri into a woman! With no apparent way to undo the spell, Matsuri must continue battling ayakashi–and go back to school–in this new feminine body until he can find a way to turn back.
This supernatural romcom with a gender-bender twist from blockbuster artist Kentaro Yabuki is currently being serialized digitally in English through Viz's Shonen Jump program and Shueisha's Manga Plus service. Seven Seas will begin releasing Ayakashi Triangle in November 2022 for $13.99 USA / $17.99 CAN in print and on digital platforms in uncut single volume editions as part of Seven Seas' Ghost Ship imprint.