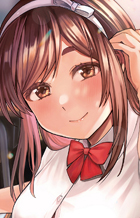 Seven Seas Entertainment is pleased to announce the license acquisition of the manga series I Get the Feeling That Nobukuni-san Likes Me by Kousuke Yasuda. In this sexy romantic comedy, a young woman tries to figure out how to seduce her crush!
Nobukuni is in love with Sasaki, a boy who sits next to her in class. But how can she get him to notice her? A deep dive into teen magazines and heeding the advice of a cool girl in class gives Nobukuni all kinds of ideas: try to sleep cutely at her desk, flash a little skin, and kindly waft some of her pheromones in Sasaki's direction. She's not getting much of a reaction, so she fears it isn't working–little does she know he's hiding some secret feelings of his own! A delightful romantic comedy about young passion and the (awkward) act of seduction!
I Get the Feeling That Nobukuni-san Likes Me Volume 1 will be released for the first time in North America in November 2022 for $13.99 USA / $17.99 CAN, available in print and on digital platforms in single volume editions.