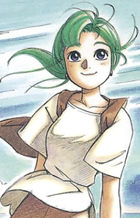 Seven Seas Entertainment is thrilled to announce the license acquisition of the manga series Yokohama Kaidashi Kikou by Hitoshi Ashinano. Don't miss this moving, critically acclaimed classic manga (which inspired the anime) about an android running a coffee shop in a slowly dying Japan–published in English for the first time in oversized omnibus editions!
Set in the future after an environmental catastrophe, Yokohama Kaidashi Kikou (also known as Yokohama Shopping Log) centers on the simple life of Alpha, an android who runs a small coffee shop in coastal Japan. Alpha stands witness to chronicle the end of humanity's days with coffee, a slice of watermelon, and the sound of her moon guitar backed by distant seagulls. Quiet and bittersweet, this tale is about the melancholy beauty that can be found even as the end approaches.
Winner of the Seiun science fiction award for Best Manga, this beloved series launched in the mid 1990s and ran for 14 volumes, inspiring anime and garnering critical acclaim. Seven Seas is proud to present this series in English for the first time, with the entire story combined into an oversized five-volume set.
Yokohama Kaidashi Kikou: Omnibus Collection 1 will be released for the first time in North America in August 2022 for $24.99 USA / $32.99 CAN, available in print and on digital platforms in five large-trim omnibus editions.