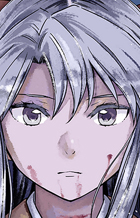 Seven Seas Entertainment is excited to announce the license acquisition of the manga series Die Even More Valiantly by Yu Aida, an action-packed and supernatural historical drama about a samurai-turned-rebel and a mysterious young woman–from the creator of the hit manga and anime Gunslinger Girl!
The Edo period has ended, and former samurai Haruyasu is adrift in a strange new world. Not even the promise of rebellion can cure him of his desire for death. But after an assassination gone wrong, Haruyasu finds himself at the mercy of his intended victim's bodyguard, an intriguing young woman with the power to heal–so intriguing, in fact, that he decides he wants to live in order to learn more about her. But what will she ask in return for saving his life?
Die Even More Valiantly Volume 1 will be released for the first time in North America in October 2022 for $15.99 USA / $19.99 CAN, available in print and on digital platforms in single large-trim editions.