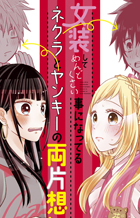 Seven Seas Entertainment is delighted to announce the license acquisition of the manga series Crossplay Love: Otaku x Punk by Tooru. In this LGBT+ high school romantic comedy, a nerd and a delinquent find themselves attracted to each other, but only when they're crossdressing at a maid cafe!
Shuumei has a problem. He's in love with a girl who works at a maid cafe, but he's too cool to go into a place like that without being embarrassed. But girls can go to maid cafes without seeming creepy, right? When he dresses in feminine clothes and transforms himself into "Mei," he can finally walk into the place to meet the girl of his dreams: the lovely blonde Hana. Meanwhile, Hanae is an introverted otaku who's uncomfortable talking to people…unless he's dressed in feminine clothes himself. While decked out in his best dresses, he works at a maid cafe, and finds himself crushing on a young woman who regularly comes to visit him: a cool beauty named Mei! In this delightful LGBT+ romcom, two young people in love are about to find out a lot about each other–and themselves.
Seven Seas will publish the manga series Crossplay Love: Otaku x Punk for the first time in North America in print and on digital platforms in single volume editions. Volume 1 will be released in August 2022 for $13.99 USA / $17.99 CAN.