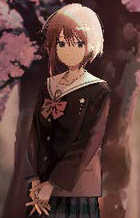 Seven Seas Entertainment is pleased to announce, through its Airship light novel imprint, the license acquisition of the light novel Wait For Me Yesterday by Mei Hachimoku and Kukka. Childhood friends use time travel to try to avert tragedy in this bittersweet book about growing up, love, and loss–by the creators of the light novel and manga series The Tunnel to Summer, the Exit of Goodbye (also from Seven Seas).
After disturbing experiences in the city, seventeen-year-old Kanae flees back to his childhood home on a remote island. Once there, he reunites with his old friend and first love, Akari. But suddenly, Kanae finds himself propelled four days into the future. Akari's older brother is now dead and Kanae has no memory of what happened in the intervening four days. Can Kanae travel back in time to prevent the death of Akari's brother?
Seven Seas will publish Wait For Me Yesterday (Light Novel) for the first time in North America in a single large-trim edition. The book will be released in May 2022 for $14.99 USA / $18.99 CAN as part of Seven Seas' Airship imprint.