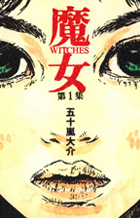 Seven Seas Entertainment is thrilled to announce the license acquisition of the manga Witches: The Complete Collection by Daisuke Igarashi, an omnibus of award-winning intergenerational tales of witchcraft from the critically acclaimed creator of Children of the Sea.
On a visit to the capital of a small country in the far west of Asia, a British girl named Nicola falls in love. The object of her affections is Mimar, a young man who works at a bazaar–yet despite her attempts, he doesn't notice her. Back at home in England, the ache of her unrequited love festers. After years spent obtaining wealth, fame, and "the secret of the world," she returns to the bazaar to exact her deadly revenge upon Mimar and those he holds dearest. This story is just one of many in this dramatic collection, which features tales of witchcraft across the globe and even in the far reaches of outer space. Originally published as two volumes in Japan and winner of an Excellence Prize at the 2004 Japan Media Arts Festival, now you can own the entire series in English for the first time in this beautiful omnibus release.
Seven Seas will publish the manga Witches: The Complete Collection (Omnibus) for the first time in North America in a single omnibus edition. The book will be released in March 2022 for $19.99 USA / $24.99 CAN.