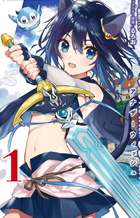 Seven Seas Entertainment is excited to announce the license acquisition of the manga series Reincarnated as a Sword: Another Wish by Yuu Tanaka and Hinako Inoue, a new spin-off manga series for the fantasy isekai light novels and manga!
Reincarnated as a sentient weapon with memories of his past life, but not his name, a magical sword saved a young beastgirl from a life of slavery. Fran, the cat-eared girl, has become his wielder, and wants only to grow stronger, while the sword wants to know why he is here. Follow their new adventures in this spin-off manga series!
Seven Seas will publish the series Reincarnated as a Sword: Another Wish (Manga) for the first time in North America in print and on digital platforms in single volume editions. Volume 1 will be released in January 2022 for $12.99 USA / $16.99 CAN.