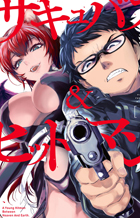 Seven Seas Entertainment is thrilled to announce the license acquisition of the manga series Succubus and Hitman by Makoto Fukami and Seigo Tokiya, the creative team behind Magical Girl Spec-Ops Asuka. In this dark action series, one man's quest for revenge is about to raise hell.
Gamo Shoya is a dead man. At least, he was Gamo Shoya–inside his body resides the soul of someone else, murdered but brought back to life in his body. Now a student living a life that's not his own, Shoya is haunted by Armelina, a beautiful demon succubus who has given him a new role: hitman. She can't kill humans directly, but she can use Shoya to hunt and kill the wicked who prowl the streets, leaving their departing souls ripe for Armelina to devour. In exchange, she'll help him hunt down whoever killed him in the first place. It's a dark path for Shoya. The only thing he has left to lose is…his soul.
Seven Seas will publish the manga series Succubus and Hitman for the first time in North America in print and on digital platforms in single volume editions. Volume 1 will be released in December 2021 for $13.99 USA / $17.99 CAN.