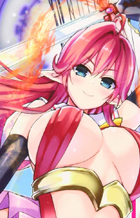 Seven Seas Entertainment is pleased to announce the license acquisition of the sexy manga series Does a Hot Elf Live Next Door to You? by Meguru Ueno, the story of a saucy elf girl who moves in next to a wannabe mangaka and sets his life ablaze–literally!
High schooler Inudo Keita dreams of being a great mangaka. He also happens to live in a Japan that mingles with the denizens of strange and fantastical alternate worlds. When a gorgeous pyromaniac elf moves into the apartment next door, Keita's life flies off the rails–and she's only the first otherworldly girl to throw his life into chaos. Will Keita be able to complete a single manga page without a beautiful woman turning his day into a hot, flaming mess? (Probably not!)
Seven Seas will publish the manga series Does a Hot Elf Live Next Door to You? for the first time in North America in print and on digital platforms in single volume editions. Volume 1 will be released in August 2021 for $13.99 USA / $17.99 CAN as part of Seven Seas' Ghost Ship imprint.