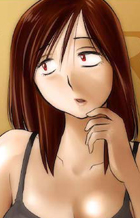 Seven Seas Entertainment, through its Ghost Ship imprint for older readers, is pleased to announce the license acquisition of the Mature-rated manga series Shiori's Diary by Tsuya Tsuya, the story of a woman who decides to cheat on her philandering husband…again and again.
Three years into her marriage, 34-year-old Shiori finds that the sex has dried up along with whatever connection she had to her husband. When she finds her husband's diary and learns that he's taken a lover, Shiori turns a class reunion into a passionate hookup with her first boyfriend. With her world rocked and her lust reignited, there's no way she's going to stop with one hookup–or one guy, for that matter.
Seven Seas will publish the manga series Shiori's Diary for the first time in North America in print and on digital platforms in single volume editions. Volume 1 will be released in August 2021 for $13.99 USA / $17.99 CAN as part of Seven Seas' Ghost Ship imprint.