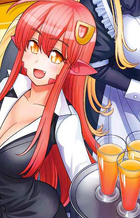 Seven Seas Entertainment, through its Airship light novel imprint, is excited to announce the license acquisition of the light novel series Monster Musume – Monster Girls on the Job! by Yoshino Origuchi and OKAYADO, a new spin-off novel from the bestselling Monster Musume manga series!
When twenty-something Kurusu Kimihito became an involuntary "volunteer" in the government homestay program for monster girls, his world was turned upside down. A lamia named Miia was sent to live with him, and it's Kimihito's job to make sure the sexy snake girl integrates into everyday life. In this novel spin-off, a new program hopes to give monster girls experience in the working world–leading to sexy uniforms, on-the-job shenanigans, and all-new hilarity! Written by Yoshino Origuchi, the author of the Monster Girl Doctor light novels (which were recently turned into an anime), and illustrated by series creator OKAYADO, this series features everyone's favorite monster girls in a novel adventure!
Seven Seas will publish the series Monster Musume The Novel – Monster Girls on the Job! (Light Novel) for the first time in North America in print and (early) on digital platforms in single large-trim editions. Volume 1 will be released in print in August 2021 for $14.99 USA / $18.99 CAN as part of Seven Seas' Airship light novel imprint.