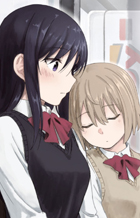 Seven Seas Entertainment is delighted to announce the license acquisition–both print and digital–of Our Wonderful Days by Kei Hamuro, the touching yuri manga series about two girls falling in love in the Japanese countryside!

On the first day of high school, Koharu is struck speechless at the sight of the beautiful new transfer student, Mafuyu. It turns out that Mafuyu and Koharu have a deep connection, one going all the way back to their childhood. As the two friends reconnect, their feelings start to grow into love. This sweet love story that first gained popularity on Pixiv is now a series!

Seven Seas will publish the manga Our Wonderful Days for the first time in North America in print and on digital platforms in single volume editions. Volume 1 will be released on November 12, 2019 for $12.99 USA / $15.99 CAN.