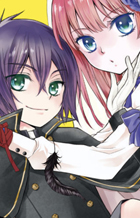 Seven Seas Entertainment is pleased to announce the license acquisition of the manga The Bride & the Exorcist Knight by Keiko Ishihara, a supernatural shoujo series about love and war!
Demons have been attracted to Anne her entire life. At age seventeen, she learns that a demon lord wants to marry her–and literally drag her into hell! Luckily, she's got a talented young exorcist to keep her safe from the powerful fiend. There's just one issue: the brash exorcist is in love with her, too.
Seven Seas will publish the The Bride & the Exorcist Knight manga series for the first time in North America in single volume editions. Volume 1 will be released on July 17, 2018 for $12.99 USA / $15.99 CAN.