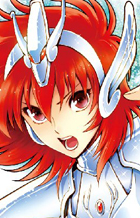 Seven Seas Entertainment is excited to announce the license acquisition of the manga series Saint Seiya: Saintia Shō by Chimaki Kuori, the newest (and soon to be animated) iteration of the Saint Seiya series featuring its first all-woman team!
In the wake of a space-wide civil war instigated by Saga–the Gemini Gold Saint–a new team of Saints comes together with the goal of protecting their goddess Athena. This first all-woman team of armored warriors, powered by the Zodiac, will use their cunning, strength, and compassion to defend their worlds and oppose their very destinies. Mangaka Chimaki Kuori is also known for working on manga for Gundam Seed and the Persona series.
"We're really excited for this one," says Seven Seas Production Manager Lissa Pattillo. "Not only will it appeal to fans of the original Saint Seiya and the upcoming anime, but the dynamic of this all-woman Zodiac warrior team can even reach fans of Sailor Moon. This is a fun, modern version of a classic!"
Seven Seas will publish the Saint Seiya: Saintia Shō manga series in print for the first time in North America as single volume editions. Volume 1 will be released on February 6, 2018 for $12.99 USA / $14.99 CAN.