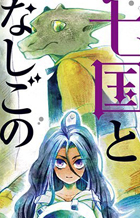 Seven Seas Entertainment is delighted to announce the license acquisition of the manga series Juana and the Dragonewt's Seven Kingdoms by Kiyohisa Tanaka, a fantasy tale for dragon lovers and fans of The Ancient Magus' Bride and The Girl From the Other Side: Siúil, a Rún!
In a fantastical future ruled by dragonewts, human dominance is a thing of the past. Despite humanity's extinction, Nid, a young dragonewt with a passion for ancient history, makes a startling discovery: a young human girl who calls herself Juana. Together, the unlikely pair sets out to explore the strange world of the Seven Kingdoms.
"This is a great fantasy series, and we love the race of dragon people Kiyohisa Tanaka has dreamed up," says Seven Seas Marketing Manager Lianne Sentar. "The intriguing dynamic of a Dragonewt adopting a human provides the backbone to an exploration of a rich fantasy world."
Seven Seas will publish the Juana and the Dragonewt's Seven Kingdoms manga series in print for the first time in North America as single volume editions. Volume 1 will be released on January 16, 2018 for $12.99 USA / $14.99 CAN.