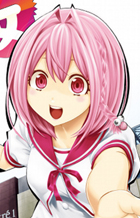 Seven Seas Entertainment is excited to announce the license acquisition–both print and digital–of the Yokai Girls manga series by Kazuki Funatsu, a sexy action-comedy of monster (girl) proportions!
Nishizuru Yakki has always considered himself a fairly normal guy–he's graduated from school, works a part-time job, and has never had a girlfriend. Yet he does have one unusual ability: he can see yokai spirits! He usually copes with these ghostly visions by ignoring them…until he meets a mysterious young woman named Rokka. Now his normal days have taken a notably abnormal turn, as Yakki finds himself the sole defender of some sexy supernatural yokai!
"This is a really fun manga series with fantastic art," says Seven Seas publisher Jason DeAngelis. "As the title suggests, it features a unique spin on the now-familiar monster girl genre, but with yokai girls! We're proud to expand the list of titles we publish–both with new genres, and with the genres our audience has told us loud and clear that they enjoy."
Seven Seas will publish the Yokai Girls manga series for the first time in North America in print and on digital platforms as single volume editions. Volume 1 will be released in print on November 7, 2017 for $12.99 USA / $14.99 CAN.