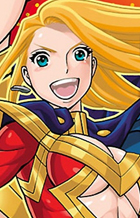 Seven Seas Entertainment is proud to announce the license acquisition of fan-favorite Nozomu Tamaki's sexy superhero manga series, Don't Meddle With My Daughter.
Nozomu Tamaki is best known as the creator of the New York Times' best selling series, Dance in the Vampire Bund. Putting aside fangs for capes, Don't Meddle With My Daughter follows a mother-daughter superhero duo in this titillating superhero adventure that readers won't want to miss.
Meet "The Eighth Wonder"—a mother-daughter team of superheroes! Athena Haruka, the original Eighth Wonder, disappeared twenty years ago after a battle with the villainous organization, Blowjob. Now, Eighth Wonder has reappeared—but it's Athena's daughter, Clara, recruited to fill her mother's superhero shoes. When her daughter makes her debut as a superhero, Athena must leave the comforts of retirement, don her costume once again, and return to fighting crime so she can keep her daughter safe. But are the combined skills of these two super-powered women enough to combat what the world has in store for them?
Seven Seas will present Don't Meddle With My Daughter, for the first time in print in North America, as three single volumes. Each volume will contain at least one full-color illustration and be delivered shrink-wrapped for mature audiences. Don't Meddle With My Daughter Vol. 1 will be released on August 29, 2017 for $12.99 USA / $14.99 CAN.