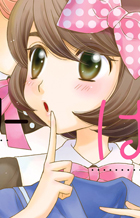 Seven Seas Entertainment is proud to announce the license acquisition of Milk Morinaga's ongoing yuri manga series, Hana & Hina After School.
Hana & Hina After School is an all-new manga series by Milk Morinaga, a beloved creator known for her critically-acclaimed works in the yuri genre, including Girlfriends and Kisses, Sighs, and Cherry Blossom Pink. Hana & Hina After School is a romantic comedy about two dissimilar girls who find common ground when it comes to all things cute!
Hana and Hina are two high school girls working at the same character goods shop, but they are completely different from one another. Hana is petite, uncertain and shy, while Hina is tall, confident, and trendy. Yet they share a secret: their school has a strict policy against taking part-time jobs. They also discover that both of them share an irresistible attraction to things that are cute, be it the uniforms at their all-girls' school or…each other! Just how long will Hana and Hina be able to keep their afterschool jobs, and their feelings for each other, a secret?
"You can never have too much of a good thing, and I put Milk Morinaga's works into that category," said Seven Seas production manager Lissa Pattillo. "Hana & Hina After School is Milk Morinaga's newest ongoing yuri series, and we're as eager as our readers to see where this adorable on-the-job romance between Hana and Hina goes!"
Seven Seas will present Hana & Hina After School, for the first time in print in North America as single volume editions. Hana & Hina After School Vol. 1 will be released on March 14, 2017 for $12.99 USA / $14.99 CAN.