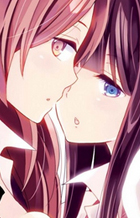 Seven Seas Entertainment is excited to announce their acquisition of Kodama Naoko's yuri manga series, NTR: Netsuzou Trap. A dramatic tale of romance, lust, and betrayal, as two young woman explore their growing feelings for one another, NTR: Netsuzou Trap features stunning artwork and a romantic storyline that oozes with erotic tension.
Yuma and Hotaru have been friends since childhood. It is only natural that when Yuma is nervous about her new boyfriend, she asks Hotaru and her boyfriend along for a double date. But when Hotaru offers herself to Yuma as "practice", both girls realize that they're more interested in each other than they are in their own boyfriends. With boyfriends in the foreground but a secret, passionate tryst in the background, will Yuma and Hotaru try to forget what happened between them or have they fallen into a trap of true love and betrayal?
"Our readers and fans have been clamoring for more yuri," said Seven Seas publisher Jason DeAngelis. "NTR is one of the best-known yuri titles currently running in Japan, and we think Kodama Naoko's dramatic storytelling along with her beautiful artwork will make this a hit with readers who have enjoyed Citrus."
Seven Seas will present NTR: Netsuzou Trap for the first time in print in North America as single volume editions, each at a larger trim size, containing at least one full-color insert. The first volume of NTR: Netsuzou Trap will be released on September 20, 2016 for $13.99 USA / $15.99 CAN.