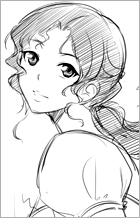 Seven Seas Entertainment is delighted to announce their upcoming release of an all-new, illustrated edition of Jane Austen's classic, Pride and Prejudice. With illustrations by Shiei—artist of the New York Times' bestselling series, Amazing Agent Luna—Seven Seas' edition of Pride and Prejudice is an opportunity to re-experience the classic novel in its entirety accompanied by gorgeous manga-styled artwork.
"Our illustrated edition of Alice's Adventures in Wonderland and Through the Looking-Glass was very well-received, and we're happy to see the growing anticipation for our upcoming Wizard of Oz omnibus." said Seven Seas publisher Jason DeAngelis. "When we thought about which classics we'd love to give a visual update to next, Pride and Prejudice was the obvious choice. We know Shiei will bring Jane Austen's dramatic tale to life in an all-new way."
Elizabeth Bennett is the second of five daughters in her tight-knit English family. When the wealthy and sociable bachelor Mr. Bingley moves into town, Elizabeth's Mother sees a fresh opportunity to find her daughters a respectable and supportive husband. Sharp-tongued and smart-witted, Elizabeth doesn't share her family's enthusiasm, a sentiment only furthered by the arrival of Mr. Bingley's incorrigible friend, Mr. Darcy.
Pride and Prejudice will be a four-hundred-page collection containing Jane Austen's original text, along with over 120 black-and-white full-page and spot illustrations, four full-color single-page pin-ups, and a complete wrap-around full-color cover.
Seven Seas will release Pride and Prejudice on December 20, 2016 for $14.99 US / $16.99 CAN.